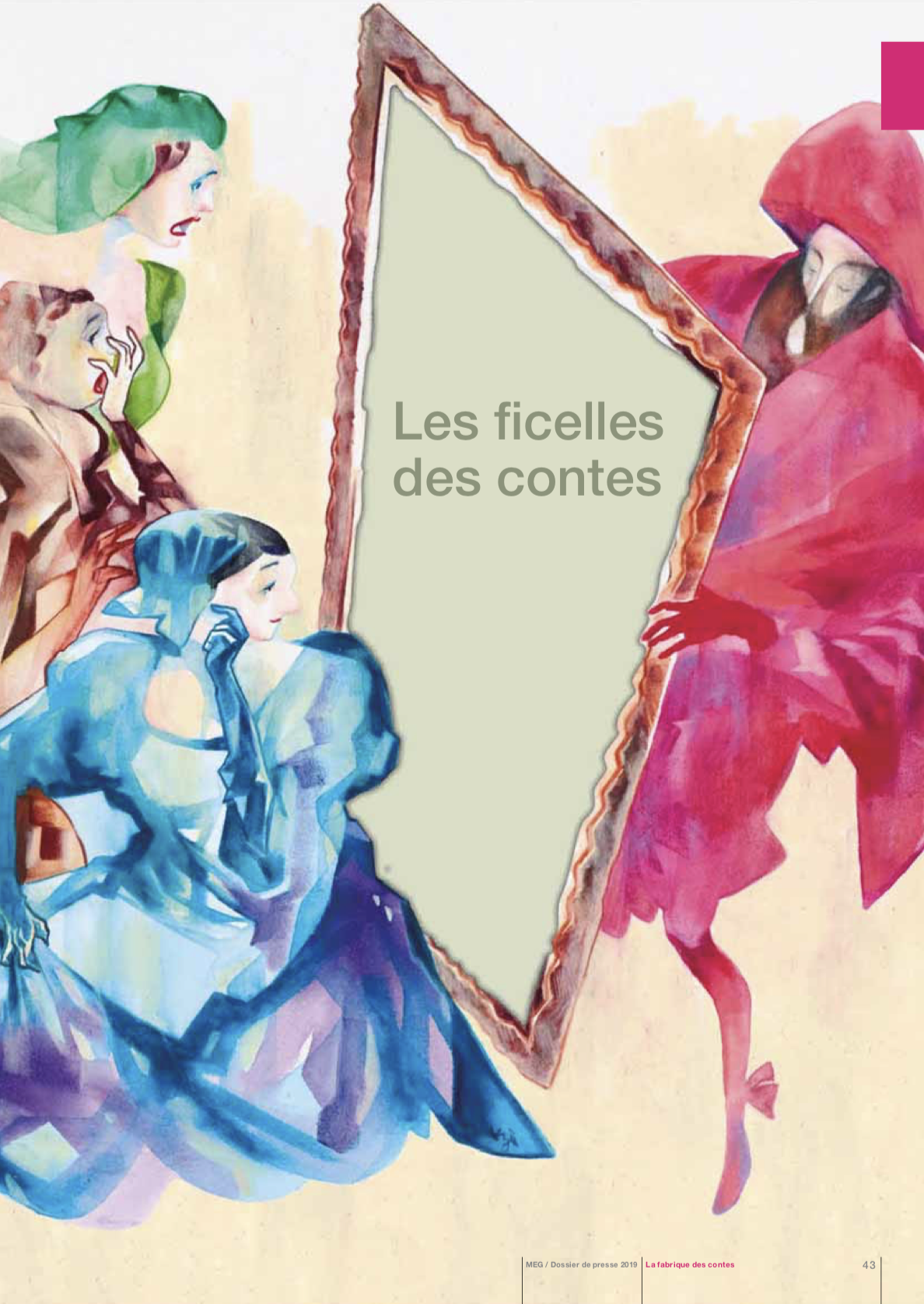 So, in his exhibition "La fabrique des contes", the MEG doubles itself.
First he became a storyteller and tells eight stories from the traditional European repertoire in his own way. These stories, now more or less known, are staged in "theatres of
There are of course tales all over the world, but on the Old Continent their history is quite particular, since at the time of the birth of European ethnography, they were collected as an essential example of what we would call today the "intangible heritage".
Many other institutions, including libraries, have already successfully embarked on the exercise of producing an exhibition on stories. Thus, it seemed obvious to us that if we wanted to look at the tale with the eyes of the ethnologist, we had to observe it from every angle, and not only when it was adorned with the shimmering "clothes" that a beautiful edition gives, a form that he nevertheless took on very early on.
the imaginary" that allow us to truly immerse ourselves in the tale and to free ourselves from the rules of the real world. In these spaces, the Museum uses its heritage collections in a suggestive way. Moreover, he entrusted the writer Fabrice Melquiot with the rewriting of a contemporary version of each of these tales, and commissioned the Italian Lorenzo Mattotti, the Frenchwoman Camille Garoche, the Flemish Carll Cneut and the Genevan Jean-Philippe Kalonji to illustrate them with original creations, drawings, paintings and cut-out papers…
The exhibition also shows the other side of the story, in a tour dedicated to the "strings of fairy tales". The MEG finds here a more "classical" posture and proposes to explore all the uses and functions that have been assigned to these stories. To do this, he summons the most famous tales, those that keep coming back to our memory without effort.
The definition of storytelling is difficult because it brings together very different realities: on the one hand, popular tales, transmitted orally, collected by collectors and sometimes adapted by writers; on the other hand, tales that are entirely composed by authors and which can later enter the oral tradition and thus be subject to the variations inherent to this form of transmission. On closer inspection, the tale remains very close to all the other forms of oral tradition, but it is undoubtedly the most widespread and well-known genre in this heterogeneous group.
Most specialists have agreed to find structural criteria that define the story, but it is probably its variability that best characterizes it. Moreover, tales are neither necessarily intended for young people nor bearers of a univocal moral derived from traditional culture. They have long attracted the interest of scientists and scholars in this area. Many disciplines have looked at the cradle of storytelling and thought they had uncovered its secrets. But tales know no borders and travel so well in space and time that it is impossible to determine with certainty when they appear.
Federica Tamarozzi Exhibition Curator