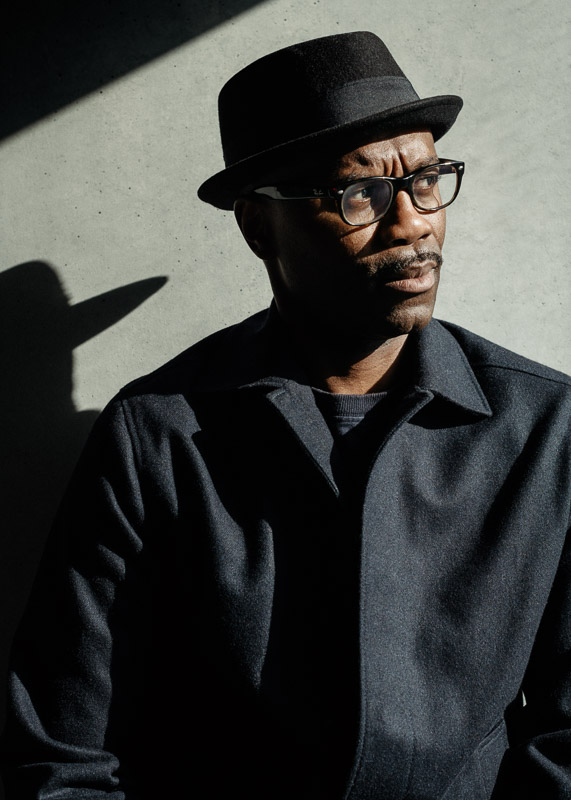 (Photo by Guillaume Megevand ©.
(originally from D.R.C . )
Jean-Philippe Kalonji was born in Geneva in 1973. After travelling and living in New York, London and Japan, he returned to Geneva-Carouge, where he currently resides. Painter, illustrator and comic book author, he began his career in 1992 and was finally called upon to collaborate with several renowned institutions. In 2009, JP Kalonji was signed by Dark Horse Publications in the United States for its publication "365 Samurais and a Few Bowls of Rice". Particularly well received by its fans, the work was quickly sold in Australia, New York and London. That same year, he participated for the first time in Comic-con, the world's largest graphic novel congress, where he sat alongside such great masters of the stage as Mike Magnola (creator of Hell Boy). In addition, the McLaren Formula 1 team commissioned him to do artistic work on the team's products. JP Kalonji has also worked closely with organizations and personalities such as UNESCO; the London Olympic Games Committee, Yohji Yamamoto, was published in Vanity Fair, France and worked creatively with the Theodora Foundation. Currently, it is also important to mention his order for "Le Corriere Della Serra" in 2015 for the World Expo in Milan.as an illustrator for the newspaper LE TEMPS, runs a campaign for the mythical Luxury Hotel The Langham London for LABELV, in 2017 he was appointed artistic director at Civitas Maxima, an NGO that defends victims of war crimes. He illustrates the annual report of the last two years then collaborates on a comic series published on the web and goes to Liberia for a workshop, which will lead to an exhibition at the FIFDH during spring 2019. He collaborating with the prestigious house Caran D'Ache on the design of three new boxes for graphite pencils.
Artistic resident for the fourth year as part of the Rendez-vous d'artistes at the Musée D'art et d'Histoires de Genève Suisse.
Year resident Artist of the Musée D'art et d'Histoires de Genève Switzerland.
collaboration with .
Musée d'art d'histoires Geneva  , LE TEMPS , MEG , Civitas maxima
 Caran D'Ache, Aarlouviggo ,corriere della sera GHSC, Animal Farms  ITC,   ,Freelance wines  ,Vanity Fair France , Unesco, Locus gear Stop suicide ,Darkhorse comics, Trinquette Publishing , Il Rivellino Art Gallery , Julien Brugeas ,Gallery, Viz  , Edwin Moses, 11thhour artists management, Mc Laren formula 1 , YohjiYamamoto , RDM , Sony , Flik Flak Swatch group  ,  Glenat & Vents d'ouest Editions , ICRC , Amnesty international ,  Editions, Payot Librairie © .Joie de lire Editions , Theodora Foundation , Skoda Swiss Group ,Pro Helvetia , JCI , Pulsesfilms , Action Innocence ,